Please join us for the Kingwood Civic Club 4th of July parade on Monday, July 4th, 2022.






Please see below for information and registration.
*****************************************************
Come out and join us for the biggest and best 4th of July parade in Houston (maybe in all of Texas)!
We're looking for sponsors. If you are interested, please email us at kingwoodcivicclub@yahoo.com. We'll get right back to you with information on how to help sponsor your hometown community parade. If you would like to volunteer to help organize or work at the parade, please send an email to the same address or call one of the numbers at the bottom of this page.

The Kingwood Civic Club also organizes other 4th of July activities, including the Kids Fishing Rodeo and the Bike Rodeo. These festivities will be held on before the parade
The Fishing Rodeo is from 6:00 - 7:30 AM and is held at the Foster's Mill ponds at the corner of Kingwood Drive & Forest Garden. Kids age 15 and younger are invited to bring their fishing gear to the ponds and compete for trophies in different categories. No registration is required.
The Bike Rodeo is at 9AM in the parking lot at the Kingwood Bible Church on the corner of Oakwood Forest and Lake Houston Parkway, across from Creekwood Middle School. Kids are invited to bring their decorated bikes to compete for trophies and then participate in the Parade afterwards.

All parade participants and sponsors must register and complete an application.

Commercial entrants, please register with a minimum donation of $30. Sponsorships start at $250 and entitle your organization to line up in the Creekwood Middle School parking lot and have your organization listed on the parade banner and in a newspaper ad after the parade. Sponsorships of $500 or more will also receive a plaque from the Kingwood Civic Club.

Registration for non-profit sponsors is no charge.

Entrants with floats or other motorized vehicles MUST provide proof of insurance.
To register, please click Here or on the "Parade Application Form" tab listed under the 4th of July Parade tab to fill out a web application. If you would prefer a PDF registration form, click the link below to download an application in PDF format.
Download Application in PDF Format

Parade Route: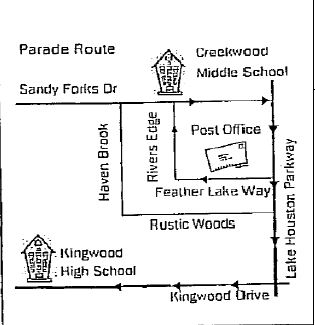 Lineup for the parade begins at the corner of Rivers Edge and Sandy Forks Drive (Enter on Feather Lakes Way by the Post Office) at 7 am. Once this street is filled, lineup will continue on Haven Brook and Sandy Forks Drive (Enter on Rustic Woods).

Please be sure that your whole group is there to line up together. No saving places with just a lawn chair!
Float judging will begin at 9am and the parade will kick off at 10am from Creekwood Middle School on Sandy Forks.

The parade will end when all participants reach Kingwood High School.
Please Note:
Candy, beads, and other items are NOT allowed to be thrown from floats and trailers. Walking participants may hand out these items, as long as they are not thrown. We need to make sure that children do not run out from the curb areas to pick up candy, etc. from the street. Please help us to keep the Kingwood 4th of July Parade safe!

All registration & donation payments may be may be mailed to PO Box 5126, Kingwood TX 77325 (checks only). You can also pay through Paypal by clicking on the "Donate" button on this site.

For further information, please
email kingwoodcivicclub@yahoo.com
Mail completed parade applications and insurance information to PO Box 5126, Kingwood, TX 77325, or fill out the online application and email insurance information to kingwoodcivicclub@yahoo.com.
Payments can also be made through Paypal on our Donate page.

Thank you for your support and looking forward to seeing you in the parade!